Be Behind the Scenes
Meet Samuel
When did you first fall in love with video production?
I love movies. I have loved watching and re-watching and re-watching movies as long
as I can remember. Once I received a digital camcorder for Christmas one year, my
brother, sister and I were hooked on making movies of our own. It became a passion
that grew with every school project that would allow for a video. Halfway through
college, I realized it was a skill that could to turn into a profession. I get to go to work
doing something I have a passion for, and on the side, still enjoy creating videos just for
myself and my family.
What has been your favorite project that you've worked
on so far and why?
I am always most excited about the project I'm working to see completed right now.
Currently, we are working on a longer-form documentary that goes into the current
Student Debt issue in the United State – something I am all too familiar with. Once
filming is wrapped, I can't wait to dig into the editing and see the story start coming
together.
What is something unique about working at B. Media
House?
B. Media approaches telling their client's stories with authenticity. Even when producing
videos for commercial purposes, B. Media strives to capture and utilize the passion that
companies have for their product, employees, or mission. It is evident in B Media's work
and something to which I look forward to contributing.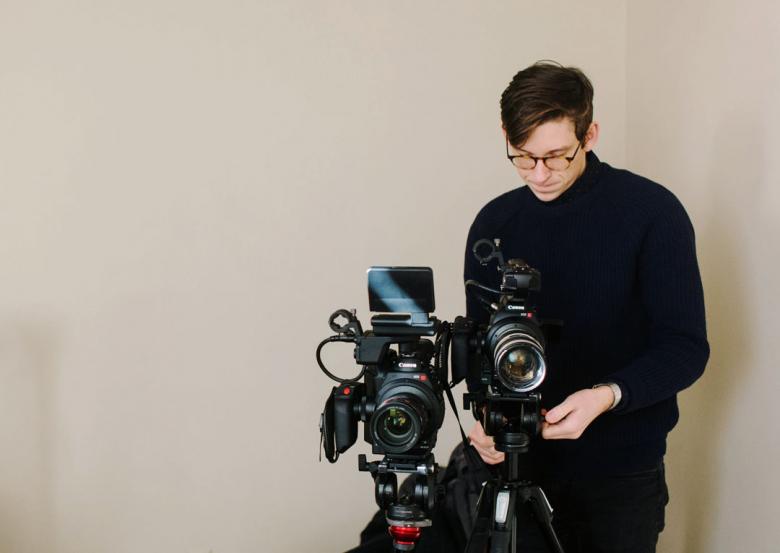 Hobbies? Home life? Cooking. If not watching a movie/TV series, I am cooking. Why not both? While prepping veggies is a great time to listen to a movie you've already seen 20 times or – better, yet – watch a cooking show to find what you'll cook for your next meal.
Who is someone that inspires you? Why? Personally, my wife inspires me every day. We are opposites in so many ways and I love finding her perspective on everything. Having someone so close to me who is so different from myself allows me to see new ways of thinking and creating. Professionally, I admire and am inspired by the movies of the Coen Brothers, Terrence Malick & Quentin Tarantino.
What is your favorite part about working with clients and telling their stories? Clients are usually just as passionate about their jobs as we are about ours. When we get together with clients to make a video, everyone is excited about starting a new project and having something more to say and put out into the world. Almost as fun as seeing the finished product is brainstorming
Creation
Starts Here
Interested in exploring how your company can utilize story-based content? Schedule a complimentary consultation today.